2 Station and Single Station Conveyorized ID Spray Machine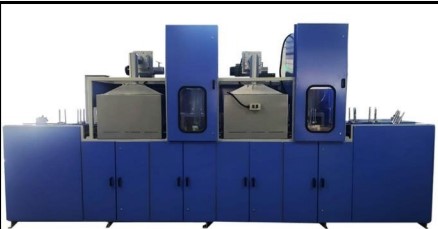 Current developments in different industrial sectors show an increasing demand for internal diameter (ID) coatings. The coating of rotationally symmetrical internal surfaces, e.g., the inside of a tube, can be realized with conventional spray guns up to a certain diameter and a certain depth of the part. This machine is designed to apply adhesive viz. Chemlok on metal components before molding.
Features:
Job Inner Diameter 16 mm to 100mm can be sprayed
Spraying thickness accuracy within range of 6/7 micron will be achieved.
2 nos of pneumatically operated Spraying units (For Primer & Final coat each). Pneumatic cylinder will be used for gun movement.Gun movement shall be as follows: For job ID 16mm to 100mm, and for OD 10mm to 100 mm Effective Spraying Length - 140mm
Each Spraying unit will have 1 number of Pressure feed gun and Diaphragm Pump of Iwata make
Separately mounted PLC based control panel including an alarm and display of errors. Panel will be of protection-IP 42
E Stop PB will be at 2 positions for entire length of machine. viz. at loading and unloading Station
Alarm for Gun Blockage
Alarm for Failure in Main motor.
Alarm for Heater (for both stations) failure.
Alarm for Main Pneumatic supply errors.
Product Parameters:
| | | |
| --- | --- | --- |
| 1 | Gun movement for ID | 16mm to 100mm |
| 2 | Gun movement for OD | 10mm to 100mm |
| 3 | Electrical Power Supply | 415V AC, 50Hz,22Kw |
| 4 | Pneumatic Air Supply | 4-6 bar |
| 5 | RD gun | 2 |
| 6 | Electrical Heating Chambers | 3kw |
| 7 | Effective Spraying Length | 180mm |
| 8 | Conveyors | 1 |
| 8 | SS Chemlok containers | 9 litres |
| 10 | Cubic Feet per Minute (CFM) | 12 |