Control Panels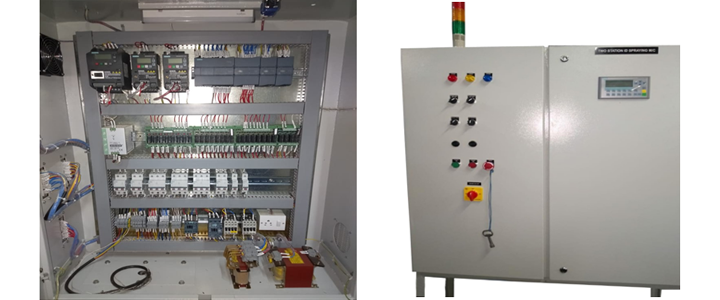 We focus on simple, easy to use operator controls for our paint finishing system.
Integrated with solid PLC logic and flawless PLC hardware programming.
We are engaged in the designing and manufacturing of PLC and Automation Panels that that are widely appreciated for longer service life and high efficiency.
All panels are hard wiredand electrically controlled and used for various machines.
Features:
Separately mounted PLC based control panel including an alarm and display of errors.
For Motor speed control, VFD is provided in Control Panel.
All components used in control panel will be CE certified.
Enclosure will be duly wired, vermin and dust proof.
Panel with Incomer protection fuse, push button, indication lamps, relay boards.
Touchscreen operator interface or HMI for effective advanced machine control.
Password protected maintenance functions to keep advanced features and settings protected.
Recipe management systems to simplify system settings management.