Face and End Deflashing Machine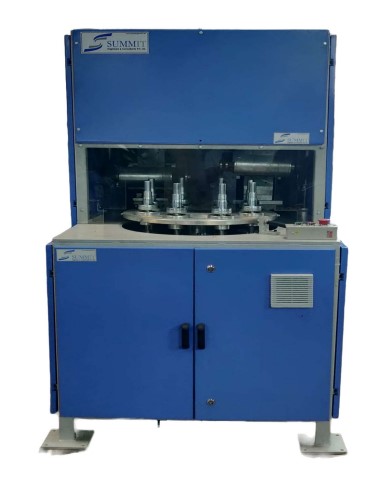 TThis machine is designed to Remove excess rubber from the Automobile Bushes. It comes with two stations with one for cleaning of Inner face while the another for cleaning of outer face. Brushes provided are efficient and reliable while they are changeable. The USP of this machine is it has six job holding fixture.
Features:
Frame Assembly with MS covers & doors (powder coated).
Two cleaning station with changeable brush.
Station 1 for cleaning face of inner, Station 2 for cleaning face of outer.
Indexer for job loading/unloading.
Job rotating unit for rotating the job while in contact with Brush.
Motor, Clutch brake and Gear box unit for indexer.
6 Nos of Job holding fixture mounted on indexer.
Control Panel to control the quick cycle with easy access to operator.
We will provide one type of fixture (6 Nos.) along with the machine.
Screw arrangement for easy adjus
ment/setting of cleaning wheel.
Product Parameters:
| | | |
| --- | --- | --- |
| 1 | Job holding fixture | Ranging from OD 20mm to 100mm |
| 2 | Machine Footprint | 1000mm X 1000mm |
| 5 | Electrical Mains Power supply | 415V AC, 50Hz, 4Kw |
| 3 | Working Height | 900 mm |
| 4 | Cubic Feet per Minute (CFM) | 3 |